1. LARGE CARPETS
Carpeting is back and here to stay! It gives a warm, cozy feeling and causes the sound in the room to be muffled. A substantial rug that holds the sofa group and your dining room furniture together gives an exclusive and inviting feeling. Velor and wool are durable and attractive choices that give a luxurious feel.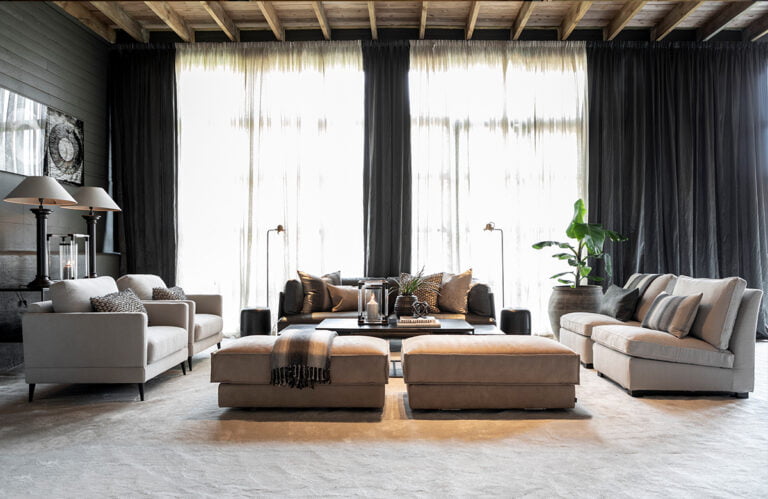 2. FLOOR-TO-CEILING CURTAINS
Few interior details create a hotel feeling more effectively than beautiful curtains, which blend into the room in terms of color and at the same time create a soft and cozy atmosphere. Curtains that start right up at the ceiling add space. Mount sliding rails in the ceiling and let them run from wall to wall if possible. Have curtains sewn up so that they are adapted to the room. At Artwood, we have our own sewing studio that accepts customized orders for curtains etc.
3. HOTEL FEELING IN THE BEDROOM
Pillows give a cozy impression in the bed and it is extra nice to meet with layers upon layers also for quilts, bedspreads and throws. To get the right hotel feeling at home, a generous number of pillows is almost a must. Invest in extra large pillows and mix different textures such as velvet and satin. A stylish headboard, a stylish armchair or bench next to the bed are selected details that immediately raise the style factor.
4. AMBIENCE LIGHTING
A stylish lamp sets the tone for the entire interior. To get the luxurious feeling, you should invest in elegant floor lamps and majestic ceiling lamps that also act as an eye-catcher in the room. The lighting also makes the room feel larger and more sophisticated when it gets dark.
5. MATERIAL SELECTION
Brass, crystal, velvet and marble. They all add a sense of luxury to your decor. So change the accessories to brass and the cushion covers to velvet and the feeling in the living room will be something completely different. Also invest in a faux fur coat. Nothing either feels or is experienced more luxuriously.
6. EFFECTIVE WITH MIRRORS
Mirrors are a trendy interior detail in our homes that give a feeling of increased space and light in a room. By placing a mirror near a light source, beautiful light reflections can be created, which in turn give the home a luxurious and cozy feeling. You can also create the illusion of a larger room and create a more luxurious feeling in the home with the help of elegant mirrors in all its forms.
LOOKING FOR MORE INSPIRATION?